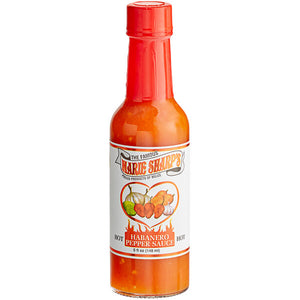 Marie Sharp's HOT Habanero Pepper Sauce
The secret to the great taste of Marie Sharp's hot sauce lies in fresh, quality ingredients.
This sauce is crafted with heirloom Belizean habanero peppers, carrots, natural vinegar, onion, hand-harvested sea salt, garlic, and freshly squeezed key lime juice.
All of the ingredients used in this sauce are non-GMO and are sustainably grown using methods that exceed USDA organic standards. Whereas most hot sauces on the market are made with a base consisting of more than 40% distilled white vinegar, this carrot- and pepper-based sauce offers wholesome goodness and a well-rounded flavor that other sauces just can't compete with!
Plus, unlike other hot sauces that use fermented pepper mash that's stored over long periods of time, the peppers used to make this hot sauce are processed the same day they are picked for unparalleled freshness.